Crescent Infrastructure – Infrastructure cabling excellence
Crescent Infrastructure was established in 1989 and building on over 34 years' experience Crescent Infrastructure has become one of Ireland's leading structured cabling and infrastructure specialists. Through Partnerships with industry-leading manufactures, such as Commscope, Belden, Corning, Austin Hughes, Leviton etc. and using the highest testing and certification equipment, such as Fluke and Fluke Networks, Crescent Infrastructure has delivered projects for the world's most recognised brands.
At Crescent Infrastructure we guarantee the highest and latest standard of testing will be completed when installing, troubleshooting, or maintaining structured cabling systems.
Crescent Infrastructure is positioned to meet the changing nature of the demand for ICT infrastructure products and services. As we are over 34 years in the industry, we are proud of our many certificates, industry partner badges, and the reputation we have built up to become Ireland's leading Infrastructure cabling provider, offering infrastructure cabling excellence with every project we undertake.
Our complete infrastructure communications solutions are tailored to the end user, allowing for ease of use, system functionality, and network reliability. From structured cabling through to systems integration and professional services, Crescent Infrastructure prides itself on its ability to offer customers turnkey connectivity solutions.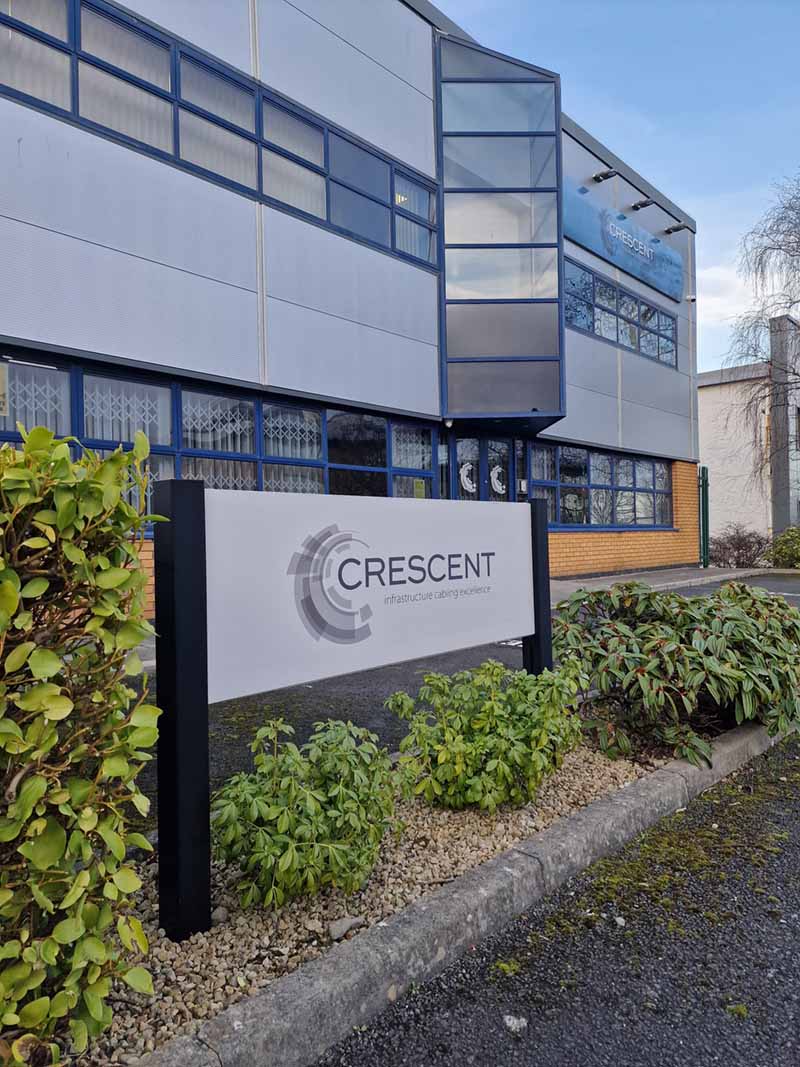 Future proof your infrastructure investment with Crescent Infrastructure
Crescent Infrastructure is committed to being a technology-focused cable infrastructure specialist that welcomes change, invests in innovation, and stays up to date with the latest technology and trends to ensure that products and services remain competitive.
At Crescent Infrastructure we do this with the explicit intention of protecting our client's investment for the future, allowing for the inevitable improvement of technology, and allowing for increased networking capabilities. Using the latest technologies and products from industry-leading suppliers and partners, we keep our client's businesses communicating and future-proof their investments, that will be relevant and useful far into the future.
Client trust with Crescent Infrastructure
Crescent Infrastructure has completed for some of Ireland's notable and prestigious infrastructures and for the world's most recognised brands within the data centre industry and cloud provider.
With strong history and experience working with our customer and partners. Crescent Infrastructure has delivered Infrastructures projects across industries such as Data and Technology, Communications as well as Pharmaceutical, Health, Education, Retail and Public Sectors in Ireland and abroad.
At Crescent Infrastructure we are very proud of our team of highly trained and certified employees, who have the highest levels of expertise in installing, terminating, and testing cabling to the highest standard.
Customer focused at Crescent Infrastructure
At Crescent Infrastructure, our core ethos is to go above and beyond for our clients, building lasting relationships and strong partnerships that lead to future growth opportunities. We believe in planning, deploying, and supporting connectivity solutions that closely match our clients' business needs, and we are committed to delivering exceptional customer service at every step of the process.
If you are experiencing challenges with inadequately installed network cabling or are searching for a professional network cabling contractor for your business, look no further than Crescent Infrastructure. Our team of certified installers are technical experts in the installation of advanced structured cabling systems. Equipped with industry-leading tools and techniques, our team can proficiently design, install, and maintain a sophisticated network infrastructure that meets the complex requirements of modern businesses.
Our cabling solutions are both reliable and efficient, ensuring seamless operations for your organization. We understand the importance of reliable network infrastructure for businesses and are committed to delivering superior quality services that exceed your expectations.
To learn more about our comprehensive services and how we can enhance your network infrastructure, please do not hesitate to contact us. Our team looks forward to the opportunity to assist you in achieving your networking goals.
Contact us today and send us an email at info@ccl.ie and let us show you on why we are Ireland's most trusted structured cable infrastructure solution provider.